PRODUCT CERTIFICATION IN TURKMENISTAN, EXPORT TO TURKMENISTAN, PRODUCT COMPLIANCE IN TURKMENISTAN,
Turkmenistan has made small steps to transition to international trade standards. "Turkmenstandartlary" is the Main State Standards Service that regulates and oversees the entire processes of conformity assessment, product certification and publication of technical regulations. Products made in Turkmenistan are labelled with a barcode that starts with number 483.
Turkmenistan joined the International Standard Association in 1991, and in 1992 began to adhere to the Interstate Council on Standard, Metrology and Certification that covers CIS countries.
Turkmenistan uses National Standards of Turkmenistan (TDS) and General Interstate Standards (GOST). GOST standards are developed and maintained by the Euro-Asian Council for Standardization, Metrology and Certification (EASC) composed of 12 F0SU countries and incorporate former Soviet Union standards. Standards and metrology are governed by the Law on Standardization and Metrology of 1993 and a series of by-laws.
Standards
The Main State Standards Service (Turkmenstandartlary) is the regulating agency in the area of standards and metrology in Turkmenistan. There are no other standards organizations in Turkmenistan. Turkmenistan became a correspondent member of the International Organization for Standardization (ISO) in 1993. In 2015, Turkmenistan created a national organization for bar coding and in May 2015 GS1, a global standards organization, issued a GS1 country prefix of 483 for products made in Turkmenistan.
Testing, inspection and certification
Example of Turkmenistan certificate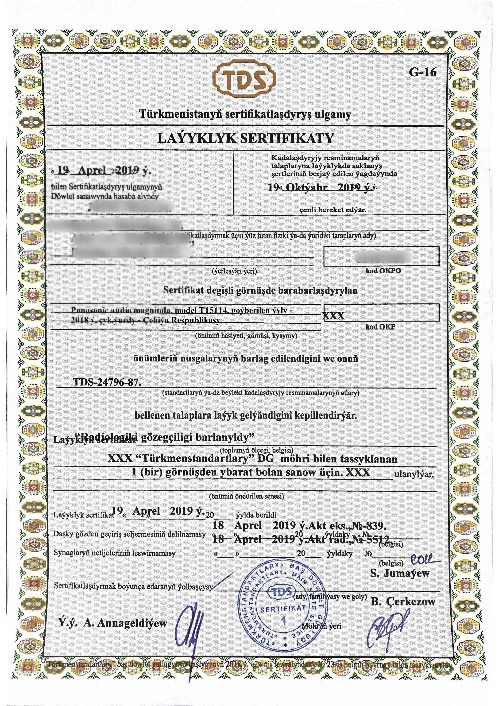 LCC Mintest can offer you reliably all certification services in Turkmenistan.
Our distinguished contact with the authority in Turkmenistan (Ashgabat),our good relationship to State Commission on Radio Frequencies, Ministry of Communications, Radiofrequency department, Türkmenstandartlary, as well as the qualification in the homologation of consumer and automotive RF-products and Short Range Devices (SRD) in ISM-Frequency band will create your market access in Turkmenistan trouble-free and cost-effective.
We will assist you to put your product successfully on the market by offering the following services:
Identify applicable requirements for your specific product or technology feature to comply with current regulations in safety, EMC, wireless, etc.
Provide pre-compliance testing during the design and development phase to determine compliance
Assist in completion of applications and other required forms
Test in our accredited labs or your qualified facilities to issue CB Test Report and Certificate with applicable national differences and other test reports for wireless, etc.
Handle entire submittal process including working with local testing and certification organizations
User manual translation service when needed
Sample handling
All translation and marking support
Hygiene Certification and food certification In Turkmenistan
Turkmen legislation requires that products be certified. Gauging equipment also needs to be calibrated by the Main State Inspectorate "Turkmenstandartlary." In 1998, Turkmenistan introduced a sanitary certification requirement for food products imported into Turkmenistan. The State Sanitary and Epidemiological Inspectorate (SSEI) conducts tests of imported food products to issue certificates of conformity. Certificates of conformance for food products must be accompanied by a Russian-language product description.
Labeling and marking In Turkmenistan
Food items in Turkmenistan must be labeled in Turkmen and/or Russian, although additional labeling in English, Turkish, Persian and Arabic is not uncommon. Home appliances and electronics are almost exclusively labeled in English. However, Russian-language instructions and operational menus are preferred. The Law on Trademarks of 2008 provides for the legal protection and use of trademarks, which must first be registered at the Patent Department of the Ministry of Finance and Economy.. The Patent Department issues a certificate of registration within three months of application, after which the trademark is valid for ten years (from the date of application).
marking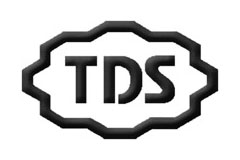 Important
Product certification in Turkmenistan will require sample delivery ,also test reports
Please contact LLC Mintest for more details